Ok I know you're all wondering how I managed after my late night/early morning wake up call. Well I'll tell you...I decided to take a 7:00 train instead. Yea...I realized I was crazy as I was woken up by my roommates coming in and getting ready for bed (they were quiet and courteous, I just woke up.)
So I spent the morning on a train talking to a couple Czechs coming back from a backpacking trip. Then I found my hostel and it wasn't until I saw the hearts that I remembered it's Valentine's Day!! So here's what I did to celebrate...
1. Participate in the Valentine's Blog Exchange
Holly over at
Domestic Dork
started this valentine's blog exchange. You may have seen the emblem in my little column over there. Of course it's not there anymore it's right here…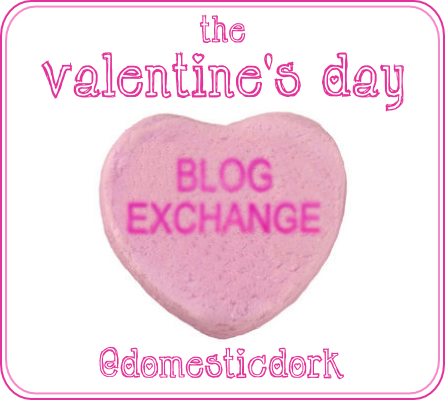 You can click on it if you like. Basically everyone who wanted to participate got paired up with someone. Then you sent Valentines to each other. It was such a great idea, but I was worried I wasn't going to be allowed to participate being so far away. But Holly was SO nice and paired me up with her!!
I sent Holly some Dutch chocolate (preferred by the Queen I'll have you know,) a keychain, a post card, a regular card, and a cell phone charm. The point of the exchange was that you had to
make
the gift. So I took a page out of my frog earrings project and made her a yeti hat key chain and charm. She has this yeti hat, and she loves it, and on her blog it seems to have a mind of it's own, so the idea is not completely from left field. You can read about all that here.
But then I got the BEST PACKAGE EVER! She sent me this lovely foam heart…
And inside it were awesome magnets! I've been looking for something to decorate my fridge with. Or maybe just my face…
Also peg dolls…one for me and one for Fien! How thoughtful!
Also some other fun goodies as well!!
Thank you so much Holly! You've made this a Valentine's Day I'll never forget!!
2. Go see one of the greatest love stories of all time…La Traviata!
I went to the opera tonight in Prague. I know people say that Paris is the city of love, but I think Prague is one of the most romantic cities I've ever been in. And I only saw it from the tram. All the architecture here is beautiful! And of course the opera itself was so wonderfully heart breaking. And damn can those people sing. I had the greatest seat, even though it only cost me 12 euros! I was on the side basically in my own little box. At one point I felt like a six year old resting on the banister in front of me smiling and watching. Ok maybe it wasn't the greatest seat for most people, but I liked it. I had a view of the whole audience…
And the orchestra…
And the stage…
At one point I could practically see down every single ball-goers gown. Because they need the room up there to expand the rib cage, etc. etc, but I mean...it was a little loose. And at intermission I got a glass of bubbly because it was classy and then settled down for act II…
Of course pictures weren't allowed during the performance, but flashes went off like lightning at curtain call so I whipped mine out too…
It was beautiful. I'm so glad I got to see it at such a beautiful theatre!
3. Watch the Princess Bride
Cuz it's my favorite movie of all time…
So that's my Valentine's Day. I hope yours was just as amazing!!
Word of the day: hart - heart